Section Types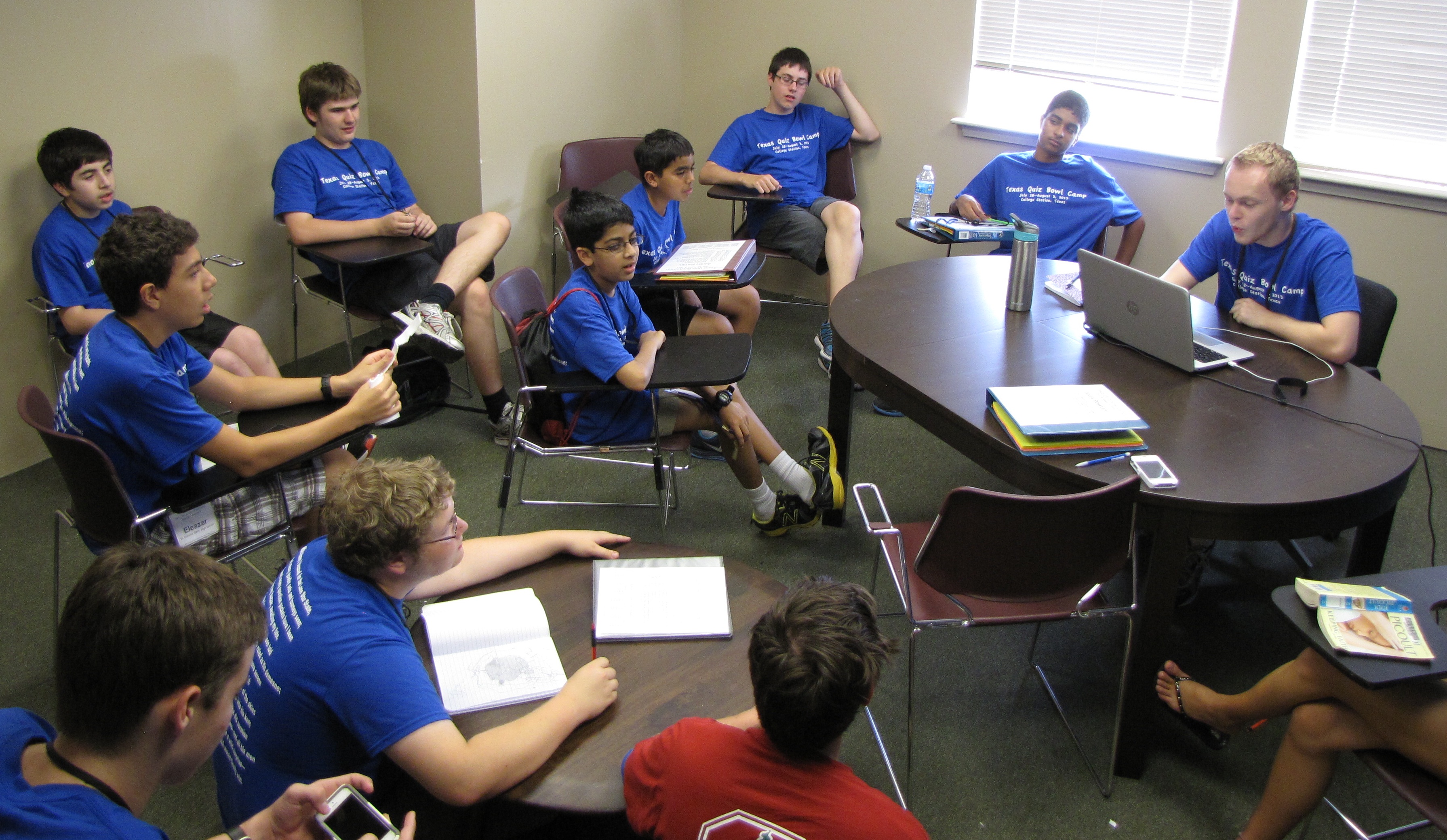 Bonus Sessions
Student groups will use questions from history, humanities, or science to practice bonus skills. College student leaders will focus on maximizing the efficiency of bonus operations to assure that the right answers emerge via the best verbal and non-verbal strategies.
Group Sessions
Small student groups of similar ages will meet twice daily to engage in fun and educational activities. Group leaders are college quiz bowl players who will most closely monitor students throughout the week.
Learning Theory/Study Skills
Students will learn how to best learn for the purposes of quiz bowl. Middle school students will focus on study skills basics. They will learn about note-taking, the importance of category specialization, and techniques for improving memory. High school students will focus on more formal elements of learning theory and gain insight into how to hone their study skills and become more efficient quiz bowl learners.
Lectures
Students will each choose one of a number of available lecture sessions lead by one of the professional camp staffers. These lectures will cover an academic topic and highlight its general connections to quiz bowl.
Recreation (twice daily) 
During break times after afternoon sessions and nightly tournaments, students may choose to engage in a variety of activities including swimming, board games, foosball, working out in the gym, playing frisbee, or taking a nap.
Tossup Sessions
Each student will take at least one hour long tossup session. During these sessions, students will be guided through themed sets of tossups and focus on clue patterns.  Students will receive a 10-15 page study document at the end of each session. Two sample packets on Elements and Nations from the 2013 camp are available.
Tournaments
Each evening students are assigned to teams of 4 or 5 to play in one of a number of mini five round tournaments. Questions will cover a wide variety of subjects such as history, science, literature, arts, geography, current events, and popular culture. Teams practice the strategies and demonstrate the new things they have learned earlier in the day.  Over the course of the camp, students will play 30 matches in 6 mini-tournaments. Students are assigned to new teams daily according to skill and experience.